AJ Aircraft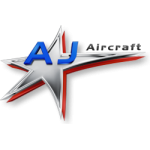 AerobatX also supply AJ Aircraft and have a long history with these airframes - for personal help and advice on which airframe is best for you please give us a call.
Clive McInnes of AerobatX won the
SA 2019 Unlimited IMAC nationals
flying an AJ laser 115" powered with a GP178cc
We are proud to introduce the Laser 230 as our first offering The Laser 230 is a classic design that all aerobatic aircraft of today have ties to. We have added our special design enhancements to the aircraft that increases the performance envelope for even the most demanding maneuvers you can throw at it. The AJ Aircraft Laser 230 has been 2 years in development and testing to ensure the aircraft we will give you the best performance in all the sizes we offer. It is in keeping AJ Aircraft Company's standards that we will not release a new product till it's 100% ready. With the new AJ Laser 230 that time is now!

The AJ Laser 230 excels in all types of flying, whether you are looking for a full on 3D performer, Precision Plane, or just a fun and predictable sport plane. The AJ Laser 230 will be up to whatever task you ask of it. For our first releases, we are bringing out 2 sizes...the 56" and 73" with a 70cc version to be rolled out mid-summer.


---
Showing 1 to 19 of 19 (1 Pages)