LiFe Batteries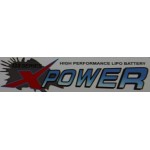 Please note when purchasing Batteries you must choose "Courier" on Checkout as your shipping option. We are unable to send batteries via Royal Mail.
LiFePo4 batteries more commonly known to us modellers as LiFe batteries.
Excellent chemistry for a host of applications including receiver packs and ignition packs, nominal voltages of 3,3V per cell.
typically 1000 cycles per pack lifespan and we have seen packs that are 7 years old and still performing exceptionally well.
---
Showing 1 to 6 of 6 (1 Pages)