This is the EX 88 - UAV Engine with EFI 


The ultra reliable GP 88cc is now available in an EFI version, suitable for R/C and UAV applications. Units can be with or without a starter / alternator included too. Contact us for more information or detailed specs.


SFC Report, Power and Torque information is available on request
at AerobatX we not only have the biggest stock of spares in Europe, but we also have the expertise to match and offer a full Factory Authorised, UK based service centre

Download the Engine info and Manual here - GP 88cc Engine Manual, dimensions and Drilling template
Download the EFI Unit spec sheets here - EX EFI information sheet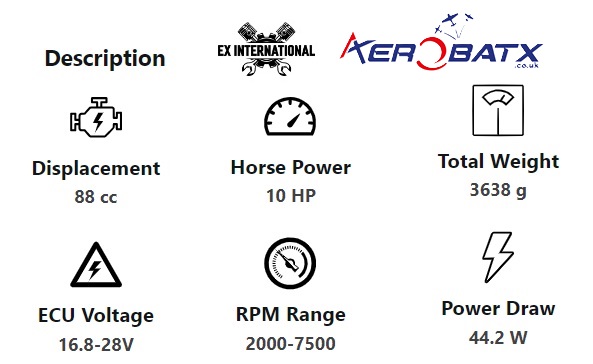 EX88 EFI UAV Engine
| | |
| --- | --- |
| Lead Time | 8 weeks |
| Displacement | 88cc |
| Power | 10HP |
| Weight (engine with intake) | 2153g |
| Weight (ECU) | 150g |
| Weight (Fuel Pump) | 140g |
| RPM Range without starter-alternator | 1200-7700 |
| RPM Range with starter-alternator | 2000-7500 |
| ECU Voltage | 16.8-28V |
| Power Draw | 44.2W |
| Temperature Range | 230 |
| Weight (150/330W Alternator System) | 850g |
| Weight (muffler) | 345g |
| Starter-Alternator configurable Battery | LiPo |
| Recommended Propeller | 26×10, 27×10 |
Starter Alternator
It integrates the engine start and power generation into a single control solution, with reliable and simplified installation to reduce the complexity of system maintenance. The compact design is more suitable for space-constrained UAVs. Multiple models cover various engine systems from 20cc to 150cc, and two output types of DC 24V 150W or DC 48V 330W are available.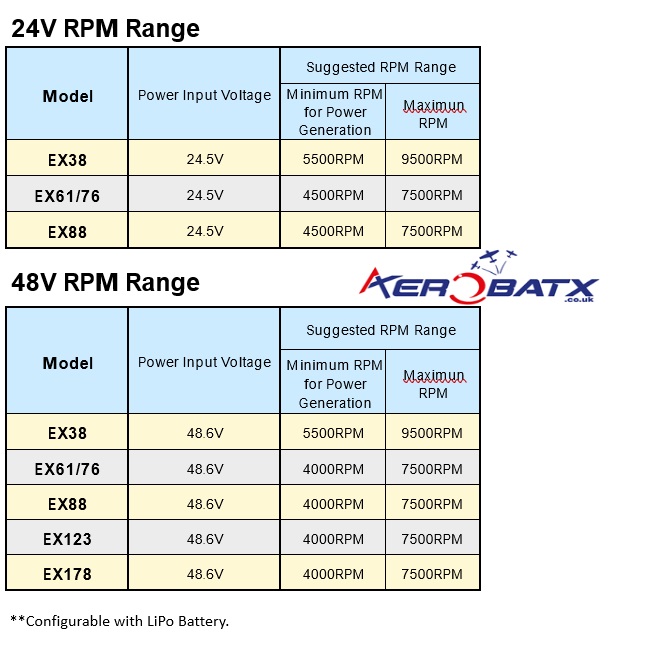 EFI Systems
Our Multi-Fuel Electronic Fuel Control System is designed specifically for UAVs with two-stroke and four-stroke engine applications. It eliminates the need for a large number of sensors by incorporating intelligent computation, electronic fuel pump, and optimized air-fuel mixing intake. This system seamlessly upgrades the fuel control from carburetors to electronic active fuel injection, providing a sophisticated solution.
The built-in intelligent computation adjusts fuel mixture smartly according to the engine's operational environment, ensuring greater stability across various conditions. Whether in summer or winter, at sea level or at 6000 meters altitude, our professional calibration empowers you to effortlessly manage these situations, bidding farewell to the intricate adjustments of carburetor needles.
Tailored for UAV applications, the system is lightweight with high precision components, weighing only 330g for the entire setup. The compact design relieves traditional carburetor users from concerns about sensor placement and weight, ushering in a new era of hassle-free upgrades.
EX88 - 88cc UAV Engine with EFI
Product Code: 88cc - UAV Engine with EFI
Availability:

Pre-Order, email to order

AerobatX Product ID: 3356
£6,509.00

Ex Tax: £5,424.17
Related Products
Tags: 88cc, gp, gas engine, great power, EFI, UAV, Electronic fuel injection